Firstly, Merry Christmas!  Thankfully this year, we all got one of the greatest gifts of all: a 2011-2012 NBA season!  A Christmas Day season opener seems almost too perfect, so let's get right into it:
Game 1: Boston Celtics vs. New York Knicks (Noon EST, 9am PST - TNT)
I'm hoping that Paul Pierce plays in this game, or else the Knicks are going to win easily.  This game should be great to watch nonetheless.  We get to see if Tyson Chandler will be able to make up for Carmelo Anthony and Amar'e Stoudemire's defensive deficiencies.  We also get the chance to see if Boston's bench will has enough talent to lift the team when the Big Four need rest.  All in all, I expect the Knicks to pull out with the win whether or not Pierce plays.  The Celtics will be tough, but it's difficult for an away team to win at Madison Square Garden.
Knicks win by 3 in a close and surprisingly defensive affair if Pierce plays, by 9 if Pierce is out.
Game 2: Miami Heat vs. Dallas Mavericks (2:30pm EST, 11:30am PST - ABC)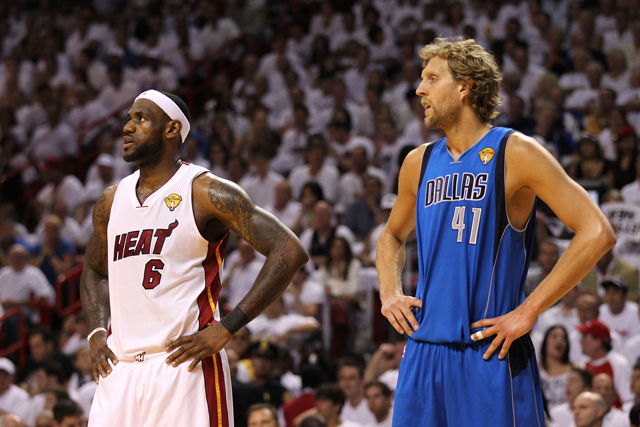 If you don't watch this game, then you are a fool.  It's the first game of the season and we are already getting the rematch from last year's Finals.  The best part about this game?  Lebron James, Dwyane Wade, and company will have to sit there and watch as the Mavericks raise their Finals banner to the rafters.  Both teams are going to fight hard.  The Mavs will be playing off their momentum from last year, while the Heat should be scorching from last year.  The Heat's talent and emotions will push them over the top in these 48 minutes.
Heat win by 3, just like some of the best games from last year's Finals matchup.
Game 3: Chicago Bulls vs. Los Angeles Lakers (5pm EST, 2pm PST - ABC)
Two contenders that fell short last season.  The difference this season?  The Bulls have gotten better and the Lakers have gotten worse.  Don't count this game out, though, it will be fun to watch.  Kobe Bryant will play in spite of his wrist, knowing him.  LA's problem, though, is that Andrew Bynum will be out due to his 4 game suspension (thanks to a quick elbow to little JJ Barea).  That gives the chance for Josh McRoberts to start at PF which he's done for Indiana, but that also thins out LA's bench by a lot.  This game is still worth watching because of Derrick Rose, and it should be fun seeing how Rip Hamilton fits with this team.
Bulls win by 11.
Game 4: Orlando Magic vs. Oklahoma City Thunder (8pm EST, 5pm PST - ESPN)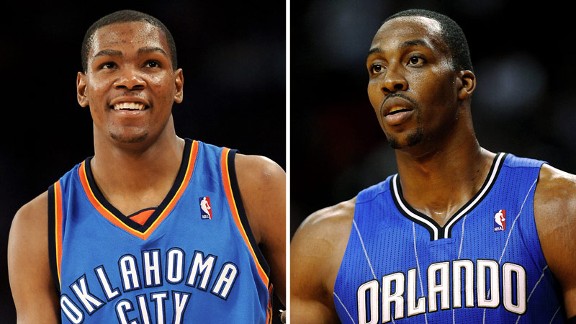 Looks like Dwight Howard is still with the Magic, which is good or else this game would have not been as worth it as it is now.  The Thunder will be a wonder to watch for team chemistry alone.  I can't wait to see how these guys play when Durant, Westbrook, and Harden are clicking.  You can't forget that both teams each feature a player that averaged over 2 blocks last season, so you will get your fair share of highlights.  Also: Glen Big Baby Davis.
Thunder win by 7
Game 5: Los Angeles Clippers vs. Golden State Warriors (10:30pm EST, 7:30pm PST - ESPN)
Do NOT sleep on this game.  There are too many reasons why you don't want to watch this game.  1) Chris Paul's official debut with the Clippers.  2) Great offensive backcourt with Stephen Curry and Monta Ellis.  3) Blake Griffin.  4) DeAndre Jordan.  5) Mark Jackson.  6) Kwame Brown.  The problem with this matchup, though, is that Stephen Curry may not play due to his sprained ankle (yes, again).  This matchup should be a must watch whether he plays or not, though.  No one will be able to cover Monta Ellis and he may very well go for an easy 40 points.  Blake and DeAndre will get all the lobs they want with Lee and Biedrin's defense, in spite of Mark Jackson's new dedication to the defensive end.  So yes, I don't care if you're going to be up at 1 in the morning, because this game could very well have a combined score of over 220 points.  
Clippers win by 6 if Curry plays, by 15 if Curry's out.  And just kidding about the whole Kwame Brown thing. 
Merry Christmas and I hope that everyone enjoys the first day of the NBA season!